The old Indian teaching was that is is wrong to tear loose from its place on the earth anything that may be growing there.
It may be cut off, but it should not be uprooted.
The trees and the grass have spirits.
Whenever one of such growth may be destroyed by some good Indian, his act is done in sadness and with a prayer for forgiveness because of his necessities...

Wooden Leg (late 19th century) Cheyenne
Both pictures on this page are done by Denton Lund. If you want to use them ,you have to get permission from the artist.
BLACK COHOSH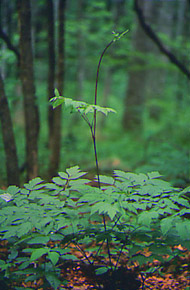 "Herb of the Month"

"Black Cohosh";scientific name:Cimicifuga racemosa;Plant Family:Ranunculaceae

A Dr.Young first introduced Black Cohosh to the Medical world in 1831,but the Native Americans had been using it for hundreds of years prior to that.

A member of the Ranunculaceae family, Black Cohosh spans up to three feet and can reach a height of eight feet when it flowers, in late spring to early summer. Its leaves have toothed margins and are divided into three lobed leaflets. Its foliage is lush, and its attractive flowers are cream-colored and fragrant.
Roots and rhizomes are thick, knotty and very dark. Black Cohosh is native to the eastern woodlands of North America and ranges from southern Canada south to Georgia, across to Arkansas and up to Wisconsin.
It's more abundant in its southern range. Black Cohosh is one of 15 species of Cimicifuga found worldwide.

By 1912,Black Cohosh was one of the most frequently prescribed herbs by American physicians.As synthetic medicines were developed during the 20'th century,Doctors turned away from the use of Black Cohosh,as they did with most other medicinal herbs as well.But now,it's time to turn back to this wonderful herb.
Other more common names for this herb are: RattleRoot,SquawRoot,SnakeRoot,and Black SnakeRoot.As the common names suggest,this herb was often used by the Native Americans as a remedy for snakebite,as well as for women's female problems.

How does it work,why does it work?Black Cohosh contains estrogenic sterols and glycosides,and a host of micronutrients.Black Cohosh has a most powerful effect as a relaxant and normalizer of the female reproductive system.
It may be used beneficially in cases of painful or delayed menstruation,ovarian cramps,or cramping pain in the womb.It has a normalizing effect on the balance of the female sex organs and may be used safely to regain normal hormonal activity.It has been used quite effectly for women going through Menopause.It is a safe and comfortable alternative for women who don't feel safe with hormonal therapy.
It also seems to help balance a woman's moods when going through Menstration or Menopause.In addition,it may be used safely in cases of Premature or False Labor.

It is very active in the treatment of rheumatic pain,arthritis,muscular,and neurological pain.It finds use in Sciatica and Neuralgia.
As a relaxing Nervine it may be used in many situations where such an agent is needed.It is useful in labor to aide uterine activity whilst at the same time,calming nervousness.
Black Cohosh will reduce spasms and aides in the treatment of pulmonary complaints,such as Whooping Cough.It has also been found to be beneficial in cases of Tinnitus.

For directions on how to use,and how much to take,contact a qualified Herbalist or Naturopathic Doctor or Practioner.

Please go visit my "Natural Approaches To Menopause" page to learn more about Healthy ways to handle Menopause.
ADVENTURES IN HERBALISM:

Many of our Medicinal Herbs that we now take for granted,were first learned about from Native Americans.Indeed,Europeans who arrived on these shores(America),were impressed by the natural healing skills of the Native tribes.One of these was the english minister,John Wesley,(founder of "Methodism"),who spent some time early in his career as a missionary in Georgia.

Wesley wrote his own volume of Herbal and other "Home Remedies",called,"Primitive Physic,An Esay and Natural Way of Curing Most Diseases",that was published in 1747. Written largely for "Poor" people who could not afford Drs. and apothecary drugs,the hugely popular book was filled with all sorts of Herbal cures and preventive methods that have been used for centuries,both before and since.

A wave of similar collections of "Home Remedies" hit the English market during Wesley's era because of widespread mistrust of the "standard" medical practises of the day,which were not only expensive,but also, often Painful and Not Very Effective.GEE,SOUND FAMILIAR??!!
"BLACK TEA AND HEALTH"

Black Tea is a rich source of natural plant antioxidants that neutralize harmful free radicals, thus helping the body to nurture its own good health.
A healthy heart, reduced risk for heart disease and stroke, lower cholesterol levels, and a stronger immune system, can be the benefits of as little as two cups of Black Tea each day!!
"GREEN TEA"

The antioxidants found in green tea help to naturally maintain good health by neutralizing harmful free radicals that can accumulate in the body. Studies confirm green tea's abilities to help boost the immune system, fight infection, aide in weight loss, support healthy joints, and maintain healthy cell growth.
Please go visit my "Allergies" page and "Friendly Bacteria/Gastrointestinal Health" page for more important info on supporting your Immune System.
AUTISM AND CHILDHOOD VACCINATIONS/THE LINK BETWEEN THEM
A PRACTICAL GUIDE IN PREPARING FOR BIOLOGICAL AND CHEMICAL TERRORISM--THIS INFO COULD SAVE YOUR LIFE.

Keeoma
Charles M. Russell
Buy Native American Art Art Prints At AllPosters.com

"CAT'S CLAW"-Uncaria Tornentosa

Cat's Claw has long been revered by the Ashaninka Indians of South America for it's healing powers.
Cat's Claw is also known by it's Spainish name,Una de gato,and grows wild in the lush Peruvian Amazon.
The Indians of that region, have used Cat's Claw for hundreds of years to treat infections, immune disorders, arthritis, and digestive disorders.

Peruvian Dr.s have reported good success in treating hundreds of Cancer patients.
If you are looking for a good immune booster to help ward off colds and flu, Cat's Claw may be just what you need to get you thru the winter.
It is also good for such things like allergy problems, bronchitis, sinus infections, pneumonia, and ear infections.

You need a strong immune defense to protect your body against both infections and Cancer.
At the same time, an overly-active immune response, can cause autoimmune disorders such as Lupus, Aides, Allergy problems, Lyme disease, and Arthritis.

The phytochemicals in Cat's Claw include agents that apparently act against viruses and increase the body's ability to produce specialized immune cells to devour infectious agents.
After you take Cat's Claw,it apparently helps your body to increase the no. of white blood cells when more are needed,OR it can help reduce white blood cells,whose levels are too high(which as already stated,can cause autoimmune disorders).
In 1993,in a small study reported in a Pervian newspaper,five out of seven AIDES patients taking Cat's Claw extract, showed an increase in T cells,as well as overall improvement.
Cat's Claw appears to have the ability to act on which ever problem your body may be having.

In addition,Cat's Claw tantalizes scientists with it's anti-cancer actions.In the laboratory,it kills cancer cells and stops them from reproducing.
When given to people with cancer,it repairs DNA damage,a vital first step, in cancer protection.

Cat's Claw also contains compounds that ease inflammation.
It not only protects from damage caused by Free Radicals,but also prevents activation of inflammation-causing chemicals,that cause swelling,pain,and restricted range of motion.
In studies,where Cat's Claw was given for arthritis,patients reported considerable improvement.And unlike some arthritis treatments,Cat's Claw appears to produce fewer, or no, side effects.

The harvest of Cat's Claw is performed without harming the RAIN forest.The root is left intact,allowing the plant to grow back.
That's good for the Rain Forest,and excellent for your health.

If you want to use Cat's Claw for overall immune protection,or for colds,allergies,arthritis,or infections,take 4 to 6 caps or pills, 400 mg. each, daily.
Take for atleast 7 to 10 days.

IF TAKING FOR ALLERGIES,TAKE IT FOR THE ENTIRE DURATION OF THE SEASON THAT YOUR ALLERGIES BOTHER YOU THE MOST,ALSO SUPPLEMENT WITH MEGA DOSES OF VIT. C,(atleast 2,000 to 4,000 mg. a day. You may have to slowly build up to that dosage.)

If taking for Arthritis,keep taking it Indefinitely.

For help with AIDES,LUPUS,or CANCER take 6 to 10 pills daily,Indefinitely.

Also, Stay in touch with,and consult with your NO.1 HEALTH CARE PROVIDER.

"Adventures in Herbalism"

The European explorers,soldiers,and missionaries who "supposedly"discovered the "New World",in the 17'th and 18'th centuries,also discovered a host of medicinal herbs long used by Native Healers there."Lavender" was one such Herb (or) Flower.

Lavender is an herb with anti-fungal and antiseptic properties.
It has long been used to treat wounds, cuts,burns,scrapes,insect bites,and to soothe a nervous,anxious, or frightened person or baby.

Recently scientists have discovered that Lavender oil has a soothing effect on the psyche.
In a small six week study in ENGLAND,researchers tested Lavender Oil on Nursing Home patients.They wanted to see if using Lavender in place of Sleeping Pills would have the same effect.
The first 4 weeks of the study involved gradually weaning the patients off of their sleeping medication.The patients were complaining quite a bit,about not being able to sleep without their medication.
The last two weeks of the study, the researchers perfumed the rooms of the patients with Lavender Oil.The patients slept as well with Lavender Oil as they did with their sleeping pills!

In JAPAN, scientists have discovered that inhaling Lavender Oil can prevent Convulsions in mice.Scientist suspect that lavender produces the production of Natural Sedatives in the brains of mice as well as humans.

Lavender played a CENTRAL ROLE in the modern Renaissance of AROMATHERAPY.
The man credited with coining that term was a FRENCH CHEMIST by the name of RENE'-MAURICE GATTEFOSSE'.
The story goes,that in 1910,he was working in his laboratory when an explosion severely burned his hands and arms.
Exactly what happened next depends on which version of the story you hear or believe,but in some accounts,he instantly plunged his arms into a large vat of Lavender Oil.
So Miraculous was the Lavender's healing powers,that GATTEFOSSE' devoted the rest of his life to researching the Medicinal Properties of ESSENTIAL OILS.
His book,"AROMATERAPIE" is considered to be the FOUNDATION WORK in this field.

KEENCOM.
If button says send e-mail, then I am not at present taking calls
New customers get first 3 min. Free
Heartbeat of a Tree:

Experience Nature as a Healing Force:

Meet A Tree:

A Tree is a living creature.It eats,breathes, rests, and circulates it's blood much as we do.

The heartbeat of a tree is a wonderful crackling,gurgling flow of life.The best time to hear the forest heartbeat is in the early spring, when the trees send first surges of sap upward to their branches, preparing them for another season of growth. Choose a tree that is atleast 6 in. in diameter and has a thin bark.Deciduous trees are generally better for listening to than Conifers,and certain individuals of a species may have a louder heartbeat than others.

Press a stehoscope firmly against the tree,keeping motionless,so as not to make interfering noises. You may have to try several different places on the trunk before you find a good listening spot.

A Tree can be an unforgettable experience in anyone's life.Observe the tree from different or unusual perspectives.Feel and smell it's bark. Quietly sit on or under it's branches.Be aware of all the forms of life that live in and around the tree,and depend on the tree.

Look,Ask questions,Guess,Have fun.A sense of joy should permeate this experience and help reconnect you to the Earth and your own sense of where you belong in the big scheme of things.

If it does not have this effect on you, keep at it ,go back, until it does.
NATIVE AMERICAN HERBAL REMEDIES
CARE2.COM THE NO.1 ENVIRONMENTAL NETWORK
BOTANICAL.COM.A MODERN HERBAL BY MRS. M. GRIEVE. LEARN MORE ABOUT VARIOUS DIFFERENT HERBS,THEIR USES AND PROPERTIES.
Welcome To "Healing With Nature"
FRIENDLY BACTERIA/Gastrointestinal Health
NATURAL APPROACHES TO MENOPAUSE
WHAT'S IN YOUR SOAP AND BATH PRODUCTS ?
ORIGIN OF DISEASE AND MEDICINE/Cherokee Legend