KEENCOM.
If button says send e-mail, then I am not at present taking calls
New customers get first 3 min. Free
Legends,Myths,And Facts:
THE RETURN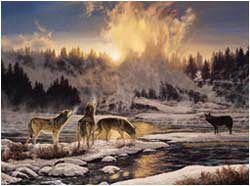 Artist:Frank Miller (He has passed away)
NATIONAL NATIVE AMERICAN HOLIDAY PETITION
Native People(s) called Animals "Children of the Earth", "Brother", and "Sister"......The Wolf they called "Big Mouth"...... Great Warriors, Medicine Men, and Chiefs took the name,(of the Wolf), and Wolf-tales were recounted around the fires until the ashes grew cold...
...So powerful the Medicine(s) of the Wolf, elite "Warrior Societies" believed that by donning the pelts of the Wolf, and making themselves to resemble wolves before entering into the camp of an enemy, they would be unseen and be invincible.
The WOLF is an "ENDANGERED" Species.
YOU can HELP SAVE the Wolves! To find out what you can do to help,contact:
http://defenders.org/adopt/wolf/adopt.html(or)
http://www.wolfdogalliance.org/rescue (or)
http://www.wolfcenter.org/pack/

Wolf Spirit
Buy Wolves / Coyotes Posters At AllPosters.com

Secretary of the Interior Gale Norton is working to strip federal protections from Gray Wolves.
Removing these protections would lead to numerous wolves being killed - especially in states where politicians hate them.

Please speak up now to save wolves!
Once all but wiped out in the lower 48 by extermination campaigns, America's wolves are struggling to survive in the wild.
DON'T LET GALE NORTON TAKE THEM OFF THE ENDANGERED SPECIES LIST!!
They need protection for their fragile recovery to continue!

PLEASE GO TO THE LINK BELOW TO SIGN A PETITION.
The greatest threat to the Wolf is human misperception:Centuries old mythology that prevents a true understanding of this elusive and majestic animal.

In The Company of Wolves
Susan Seddon Boulet
Buy Wolves / Coyotes Art Prints At AllPosters.com

When you think of a wolf,what comes to mind?The nasty wolf that tried to eat the three little pigs?The big,bad wolf that dressed up like grandma,and almost ate Little Red Riding Hood?
In many fairy tales and cartoons,wolves are protrayed as sly,sneaky,and just plain mean,and evil.No wonder most people fear and dis-like them.
But you might be surprized to learn that wolves,like most wild animals.are more frightened of you than you are of them.In addition,wolves are extremely intelligent,beautiful,and very loyal animals to each other and their families.
They are especially loving and protective of their young.Wolves are affectionate and cooperative.They play and hunt together.They protect each other.If one wolf gets into trouble,the other members will try to help.You will not often see a wolf on it's own.Wolves are social animals.
They live ,work ,play,and hunt together in a family,called packs.Most wolf packs have 7 to 8 members,but some packs have as many as 14 members.
The pack always has an "Alpha" female and male wolf who lead the pack.The male is the strongest,and often biggest, male in the group.
Every other wolf in the pack knows their place,and quickly learns to bow down to the authority of the "Alpha" male.
When the "Alpha male approaches another wolf in the pack,it will cower and skulk,hang it's head down and put it's tail between it's legs.Then it will roll over on it's back,showing it's belly,to further show it's submission.
This is one reason wolves rarely fight amoung themselves. The weaker ones almost always give in and show submissiveness before a real fight breaks out.

Night Music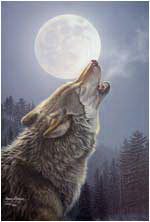 By James Meyer

Broken Silence (S)
Edward Aldrich
Buy Wolves / Coyotes Art Prints At AllPosters.com

Wolves are related to coyotes,jackels,dingos,and dogs.Although related,they are natural enemies of all these other "Canines",and will fiercely defend their terriority from these intruders,even killing them.
People often get the wolf and the coyote mixed up,because they look alot alike.But if you look closely you would see that wolves are larger and stockier than coyotes.The largest wild member of the dog(Canine) family is the Timber Wolf.

Wolves used to live all over North America,but today their range is much smaller,mostly due to over-hunting and preditation from man,(the only natural enemy of wolves).They mostly live(now), in the wilderness areas of Canada and Alaska,but a few live in Mexico, and some have been re-located to New Mexico and The Yellow Stone National Park.

Although the wolf was supposedly hunted out of Texas long ago,I know I saw a beautiful,majestic male one foggy morning standing on the side of a country highway,as I drove by.I am very familiar with coyotes,as they are quite abundant in Texas,and This Was NO Coyote.

When I saw this very large animal standing by the side of the road,I slowed down,fearful that it might try to dart infront of the car.As I got closer to it,I was astounded at what I saw.It was clearly and plainly a large male wolf.He stood strong,proud, and un-afraid as I drove by,and our eyes met for one brief moment.He did not turn away from the stare of my eyes as many wild animals are prone towards doing.I have never forgotten that experience,and often think of him,hoping that he is still alive and well somewhere.


Celestial Wolves
Buy Wolves / Coyotes Posters At AllPosters.com

Wolves have their own protected and defended territory. They will defend it against other Canines and other wolf packs.It can encompass a huge area as large as 100 to 250 square miles.The wolf pack follows the same hunting routes over and over again.All along the route,the wolves spray urine on the trees and shurbs.These scent markings serve as a sign to other wolves and Canines that this territory is taken.Some days the pack may travel as many as 60 miles without finding anything to eat.On very rare occassions wolves may join together with another pack for winter hunting.

THE GATHERING
ARTIST:DIANNE ELIZABETH STANELY

"Wolf Creed":

"Respect the Elders"
........"Teach the Young"
........"Cooperate With the Pack"
........"Play When You Can"
........"Hunt When You Must"
........"Rest In between"
........"Share Your Affections"
........"Voice Your Feelings"
........"Leave Your Mark"

......................................................

"The Wolf Mind Is":

Strength,wisdom,clear-sightedness,
protective,healing:

"The Wolf Heart Is":

Family,love,unity,trust,
long-suffering,scarifice;

"The Wolf Spirit Is":

Endurance,dexerity,perseverance,
determination,adaptability.

TN Tundra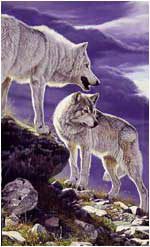 By Al Agnew

Wolves are an Endangered Species.
If you would like to know more or help, please go to any of the following:

http://timberwolfinformation.org/
http://wolfpark.org/
http;//defenders.org/adopt/wolf/adopt.html

Wolf Moon
Buy Wolves / Coyotes Posters At AllPosters.com

Night Watch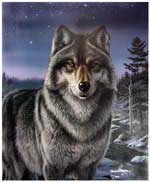 By James Meyer

Large wolf males can weigh as much as 100 pounds or more,and can be as large as 6 ft. from head to tail.But most males are about the size of a German Shepherd,and females are considerably smaller.Although wolves look a lot like German Shepherds,they have longer legs and bigger feet than their dog relatives.Their bodies are also more stream-lined because their chests are narrower.

KEENCOM.
If button says send e-mail, then I am not at present taking calls
New customers get first 3 min. Free
Wolves run on their toes,as their relatives,the dog.For a short distance,they can run as fast as 24 miles per hour.They are tireless,and can run for hours.Wolves are amazingly strong and agile.A full-grown wolf can leap as high as a one-story building,over 6 ft.

Title and Artist unknown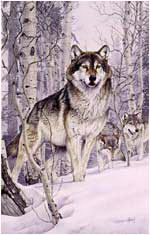 "ASCENSION"
ARTIST DENTON LUND/you may not use this Artist's works without permission

The native peoples of the North America have many myths and traditions associated with the wolf and most, if not all, have something intrinsic to tell the people how to live in the world. The Pawnee of the great plains identified so strongly with the wolf and what wolf stories and myth represented that their hand signal for the wolf and the Pawnee people were nearly indistinguishable (Busch, p96).

The Pawnee and many of the other Native American cultures revered the wolf for its great hunting prowess and would emulate this animal in ceremonies hoping to embodying these desirable characteristics, but the wolf participated in many other important stories aside from hunting.

The Eskimos have a story of an aged women abandoned and forced to survive in the cold. She turned into a wolf to do so(Busch 96). The Eskimos admired the great survival skills of the wolf.. Native American Shaman held the wolf to be the source of great spiritual power (Religion 433). In the pacific northwest, "the doctoring societies of the Quilete and Makah Indians" did wolf dances to heal sick members of their tribe. For many other Native American tribes wolves were thought to represent the corn god. With these example it is quite clear that the wolf took on many rolls in the myth of Native Americans. It is also clear that the image of the wolf was often of a creature who could teach, or give man wisdom about the world.

Certainly the wolf is seen as an intrinsic part of the world around these peoples. Like European cultures that crossed the continent, the beliefs associated with the wolf are deeply rooted to the religions practiced by these peoples.
Unlike the Christian tradition though, Native American religions are closely associated to how these peoples live. Vine Deloria Jr. makes this observation in the book "God is Red" concerning the differences between Christian traditions and Native American traditions, "American Indians and other tribal peoples did not take this path in interpreting revelation and religious experience" (Deloria 66) meaning Christian tradition is thought to be valid by how well it explains the cosmos and man's place in it.
He goes on to say in regards to Native American tradition, "The structure of their traditions is taken directly from the world around them, from their relationships with other forms of life". Man has a vastly different role contextually in the world around him in Native American tradition.

This contextual relationship of man to nature is illustrated very well in a wolf myth titled "Who Speaks for Wolf? This myth is presented as a learning story passed from generation to generation about the journey of a people in such for a new home land.
It is meant to teach many things about the world in which these people live, but most importantly though it uses the wolf and the relationship the people have with this animal to teach these lessons, something grossly missing in European culture.
The story is related through a grandfather telling it to his grandson as they sit by a campfire. He tells the grandson how his people needed to find a new land to support their growing numbers. The elders sent out many young men to look for a new land where the people could be themselves.
All had returned, each with a place selected, accept one, the one they called Wolf's Brother. Wolf's Brother knew all there was to know about brother wolf.
The elders of the tribe listened to each young man: "They listened to each among them, he who understood the flow of the water, she who understood long house construction, he who understood the storms of winter" (Underwood 25) then after listening to each they reached agreement.
Then someone amongst them cried out, "But Wait, where is Wolf's Brother? Who, then, speaks for wolf?, but the people were decided".
The people began to move to the new place, then Wolf's Brother returned. He asked about the new place and said at once after hearing where the people had chose, "You have chosen the center place for a great community of wolf...but the people closed their ears".
The people settled into the new land and thought it was good.

The people began to see after a time that food disappeared "and wolf beyond" in the shadows.
At first this seemed a fair exchange to the people, some food for a place to live. Soon though it became much more, for wolf became bolder and ventured into the village looking for food.
The boldness of wolf caused the women to fear for the little ones. The men devised a system where they would drive off wolf should he come too near.
The people discovered this required much energy and none was left to prepare for the long winter ahead. The elders of people gathered and "saw that neither providing wolf with food, nor driving him off gave the people a life that was pleasing.
They saw that the wolf and the people could not live comfortably together in such a small space".
They considered then to "hunt down this wolf people until they were no more....They saw, too, that such a task would change the people: they would become wolf killers.
A people who took life only to sustain their own would become a people who took life rather then move a little. It did not seem to them that they wanted to become such a people".

The boy asks his grandfather whether the people always remembered to ask Wolf's question and in reply the grandfather says, "They remembered for a long time...long time.
And when the wooden ships came...what we accomplish by much thought and considering the needs of all, they accomplish by building tools and changing the earth, with much thought of winter, and little of tomorrow.
We could not teach them to ask Wolf's question...."Tell me now my brothers, tell me now my sisters, who speaks for wolf?"

It should be clear now regarding the differences of these two cultures, European and Native American, and how their myths relate to the world to them. The differences perhaps are best outlined as the, "Tribal religions find a great affinity among living things....Behind the apparent kinship between animals...and human beings in the Indian way stands a great conception....Other living things are not regard as insensitive species. Rather they are people in the same manner as...human beings are people"(Deloria 89).

European myth and beliefs fail to recognize this, and in fact maintains its subjective stance in regards to the world around us.
Some progress has been made though, but only in the last generation. The peoples of European cultures are finally beginning to consider the" All" in questions they ask and the things they consider.
As time progress, hopefully, the myths about the world we hold to be true, (but irrelevant), will fade away and be replaced with ideas that have value not only to our selves, but to all creatures.

Copyright 1996 by John Williams, all rights reserved.
WORKING WITH ANIMAL SPIRITS----LEARN MORE ABOUT YOUR SPIRIT ANIMAL

NATIONAL NATIVE AMERICAN HOLIDAY PETITION

Welcome To "Healing With Nature"

FRIENDLY BACTERIA/Gastrointestinal Health

NATIVE AMERICAN HERBAL REMEDIES

NATURAL APPROACHES TO MENOPAUSE

ORIGIN OF DISEASE AND MEDICINE/Cherokee Legend

MY E-MAIL. CLICK HERE TO SEND ME A MESSAGE. IF YOU DO NOT HAVE A DEFAULT E-MAIL ADDRESS, (OR A HOME E-MAIL ADDRESS), SET UP, THIS LINK WILL NOT WORK. BUT, YOU CAN ALWAYS CONTACT ME THRU MY ADDRESS AT BOTTOM.

If you do not wish to e-mail me, you may contact me by writing to:

J. Nolan, Healing With Nature
1101 south 7th st.
Box 99
Conroe, Tx. 77301.

Thankyou for visiting Healing With Nature.Your comments and suggestions are always welcomed and appreciated. If there is a particular subject you would like to see me write on, please let me know.